I've always loved questions.
I've always loved unusual questions like unusual words, or are there such things as unusual questions? For me, they are the ones that get me thinking until my brain hurts and I can't come to a reasonable conclusion with my thinking, unless of course they are closed questions or mathematical ones, which have a definitive answer.
There are so many different types and categories of questions that I'm not here to give myself or you a lesson in the categorisation of questions and what they are called, but to get you thinking about some questions I have. Questions that may even get YOUR brain hurting too! More than anything, I'd love to enter into a dialogue with you about your thinking.
Why?
Well, I was inspired to write this post after reading a great blog. Wanted. Awkward Fish shared by @ITLWorldwide. It got me thinking about so many things that I guess I wanted to see what your thinking was about some questions I have below.
Would we call these questions a part of Philosophy for Teachers like we have a Philosophy for Children? I'm not sure, I think I'd like you to decide that one. I know what my thoughts are right now, but I am open to you sharing your thinking with me and maybe my own thinking strands will change after I hear your thoughts.
So, sit back, relax, grab a coffee, tea or something else that may tickle your fancy and let the thinking begin.
What would you do?
Think that this is an unrealistic or unreasonable question. Well, think again. This picture is similar to a staffroom for teachers I worked with in Tamale, Ghana last year. Unbelievable. Under a tree. Nothing else.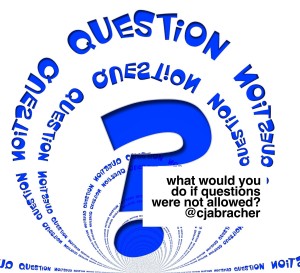 If you would like to add some of your own questions to the 'What would you do…' series, then please get in touch. Thanks to @cbracher, @cristahazell, and @lisajaneashes for their contributions too.
So, what would you do?
Over and out for now, and I look forward to your responses.
Nina